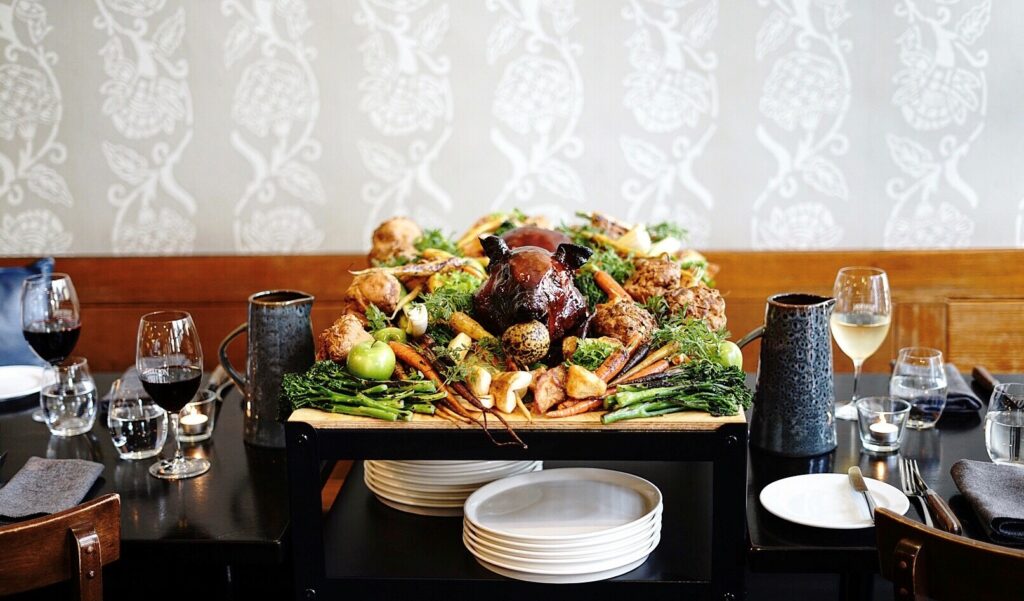 Head Chef Fraser Stark takes us behind the scenes of this monthly delicacy.
The suckling pig is a pig that weighs an average of 8 to 10 kilos.
"We get them in from Flinders Cove, based in western planes out past Melbourne. They're all ethically sourced and free range and sustainable so it ticks all the boxes in terms of what people want in a product," says Fraser.
To prepare the pig, it's placed in pork stock and topped with cider and white wine. An assortment of vegetables known as mirepoix (carrots, celery and onion) is added to the tray along with some soft herbs. Cooking takes around 8 hours, and once it's confit (preserved) it's removed from the oven.
Before serving, it goes back into the oven on a tray with the confit solution and it's basted with a heavily reduced jus. This jus acts like a caramelisation on top of the pork skin, and as it's cooked out the jus creates a crispy skin and adds a depth of flavour. This is what gives it a burgundy caramel colour.
"We serve it with general sides that you'd expect at a Sunday lunch including carrots, parsnips, assorted greens, Yorkshire puddings, roast potatoes and as much gravy and apple sauce as you could possibly imagine."
Indulge with us on the first Sunday of every month at Suckling Pig Sundays.